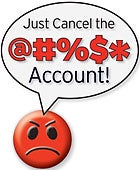 One of the editors at PC World took it upon himself to join a whole bunch of different online services and groups just to see what it would take to cancel them later. Sadly, most of the results aren't all too surprising. The worst offenders were the ones which made it next-to-impossible for the average user to find out how to cancel their service or subscription.
I'm personally surprised to see that EarthLink (my ISP for many years) is only listed as SOME Hassle rather than BIG Hassle but I guess some of the others might be even worse (if you can imagine that!). One of the main reasons I'm still with EarthLink is that they owe me so much money right now that the only way to get it all back is to continue with their service at a ridiculously low monthly fee so they can pay me back over time (they claim they can't refund more than 60 days to any account -- what's up with THAT?!!!).
Anyway,
link to the article is

HERE
. Check out the complete list.